Auto Apocalypse: Is this the Death of an Industry?
Authored By: James McKinley and Shaefer Schuetz
"A man is not finished when he is defeated. He is finished when he quits."
– Richard Nixon
Fitting. According to Bob Farrow, Director at BFC Management Consulting, auto rental organizations are going to be forced to call it quits in the next year. "I think 20 to 30 percent of rental companies will disappear. They are just simply not going to have the cash to keep on going." 
"Survival of the fittest," is not just a saying anymore. This Darwinian proverb is reminding society of its legitimacy on multiple fronts. The past few months will serve as a chapter in finance textbooks describing the importance of analyzing liquidity ratios in different companies. From grounded airplanes to the vulnerability of U.S. oil futures, the global economic system is exposed. But why are auto rental organizations preparing for a blow much larger than other industries?      
How Auto Rental Companies Make Money
The general public may assume that rental car and truck companies earn a living by renting their vehicles on daily, weekly and monthly contracts. However, this is far from reality. The real secret to the industry is leveraging order volume with OEM's (Original Equipment Manufacturer) to acquire assets at a reduced cost, then selling those assets for a spread after a mandated ownership period. The industry at its core is buying, managing, and selling capital assets. 
The rental sector has simply found an opportune way to cover operating costs that include depreciation, interest, insurance, and maintenance while they own the asset. This also means that rental companies must carefully manage residual values. This art form is imperative to the profitability of these associations.
Generally speaking, rental companies are at the mercy of the market when it comes to wholesale vehicle values. Will the COVID-19 pandemic break the used auto market, and then the auto rental industry while it's at it? 
What Experts are Anticipating
There has never been more uncertainty around the wholesale vehicle market than there is today. The COVID-19 pandemic has shuttered auctions across the United States. Many auctions have re-opened using simulcast technology, allowing buyers to bid and purchase vehicles online. Even with the introduction of virtual sales portals, volume was down 84% nationwide from the first week of March through the last. 
The drop in volume could be attributed to the unknowns of simulcast sales or the lack of manpower available to move the inventory to auction sites. However, the title wave of inventory is coming. Rental companies held over 2.2 million vehicles in 2018, according to Auto Rental News and that industry is looking to downsize quickly. 
Gregory Scott, with Mervir Consulting, said: "the rental industry as a whole will attempt to de-fleet, some large companies expect to sell off more than 20% of their current inventory." Wholesale values have also taken a significant hit in the past 40 days.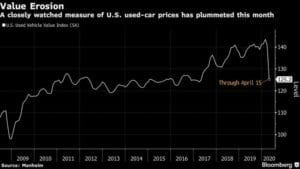 A lead analyst with JP Morgan, Ryan Brinkman, cited a mid-month report from Mannheim that the powerhouse auto auction firms used vehicles index plunged 11.8%, setting a record for the most significant drop in a single month. (Reference Bloomberg's graph above)
Will this actually happen?
No one really knows. There are so many moving variables that have to be accounted for.  A flooding of vehicles would destroy the resale market. I'm sure these industry leaders are well aware of this. A creative solution could come to try and minimize the damage. Whether some of the big players agree upon a gradual phasing out period, or maybe even a new purchasing plan with manufacturers. The issue at hand is one that will cause a lot of grief for operations across the globe.  
Elon Musk had an interesting take when he said, "You get paid in direct proportion to the difficulty of problems you solve." If that's the case someone in this industry is in line to make a small fortune.
Why wouldn't these companies just not sell off their fleet until the resale market steadies? Hanging onto vehicles instead of selling can't happen for many organizations. So many rental companies wouldn't be able to operate without the cash inflow from auto disposal. Most organizations rely on this to keep the lights on.       
Final Thoughts
He who holds the gold makes the rules. Gold is currently not a correlation to fleet size, like it may have been in the past. Gold is cash, things easily converted to cash, or the ability to get your hands on cash. 
Who wins in this situation? The winners will be those with the liquidity to ride this thing out. If our good friend Mr. Farrow is correct, and 30 percent of auto rental organizations will fall by the wayside, who gains the market share they once held? The last man standing.
Saying, "Well, just tough it out." Is pretty easy to do. But actually powering through is another story. An industry that is incredibly dependent upon the residual values of their equipment has seen a complete uprooting. Estimating residual values for units in the near future has proven impossible. 
Many experts are predicting a tainted market place in auto rental for another 18 to 24 months. There are not many enterprises that can afford to operate in a period of uncertainty for that long. No matter how things actually play out, It is safe to say the industry as a whole will trim up in the near future.