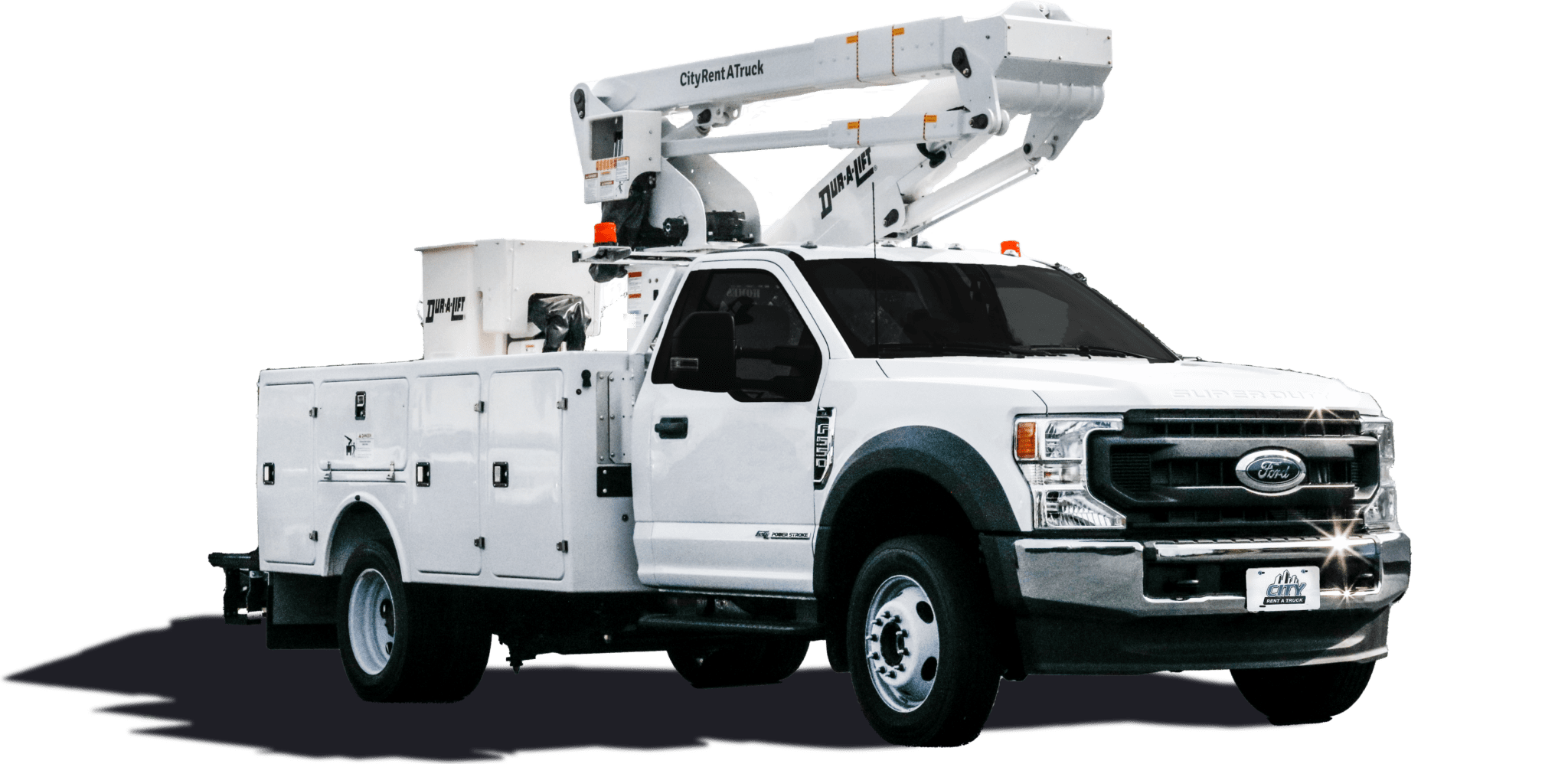 Bucket Trucks
Bucket trucks are some of the most versatile vehicles on worksites. They provide a safe outlet for workers to perform tasks at elevated heights because the bucket platform is completely stable, giving workers the ability to work efficiently with both of their arms even while high in the sky.
Many jobs may require your work crew to be high up in the air where a ladder wouldn't suffice and would be unsafe. City Rent A Truck's rentable bucket trucks give your crew a working height of 44 feet, making our vehicles some of the safest and most effective solutions for any elevated work.
Category Features *
Side Panel Storage Compartents
On Board Air Compressor and Hose Reel
Heavy-duty Towing Capabilities
Rear Back up Camera

* Features may vary on select vehicles
Quick Specs (Some Specs May Vary)
| | | Body Style | Chasis | Basket Type | Height to bottom platform | Working Height | Side Reach | Stowed Travel Height | Basket Capacity | Basket Dimensions | Articulating arm travel | Main boom travel | Extension Travel | GVWR | Max Tow Weight | Fuel Type |
| --- | --- | --- | --- | --- | --- | --- | --- | --- | --- | --- | --- | --- | --- | --- | --- | --- |
| | | | | | | | | | | | | | | | | |
| --- | --- | --- | --- | --- | --- | --- | --- | --- | --- | --- | --- | --- | --- | --- | --- | --- |
| | F-550 Bucket Truck | Extended Cab | F550 | Insulated and Non-Insulated Options | 39' | 44'-47' | 28' | 10' | 400 lbs | 24" X 24" X 42" | -5° to 81° | -25° to 75° | 110.5" | 19,500 lbs | 18,500 lbs | Gasoline |
Bucket Truck Features
Bucket trucks for rent at City Rent A Truck come with the following options and features*. Keep in mind that some features may vary on select vehicles.
Our bucket trucks include:
Side Panel Storage Compartments
On-Board Air Compressor and Hose Reel
Heavy-Duty Towing Capabilities
Rear Back-Up Camera
*Please note: not all of our bucket truck rentals are insulated.*
Industries that Use and Rent Bucket Trucks
There are many companies that use City Rent A Truck's bucket trucks rental service to complete common tasks and projects in their specific industry. Common industries we have served in the past include:
Electric Utility and Telecom
Our bucket trucks can be used in cities and neighborhoods across the country to maintain electric systems, such as power lines and grids, and telecommunication networks. These companies continue to move toward the future with improvements and updates to current networks, especially with the rise in 5G network use.
Forestry, Tree Care, and Landscaping
Those working in vegetation management and landscaping can safely complete tree and plant care tasks with a bucket truck rental from City Rent a Truck. Our bucket trucks are able to work in rough terrain, heavily forested areas, and a range of altitudes, climates, and weather conditions. Crews can effectively and safely work in the air to manage any vegetation that may stand in the way of power cabling and telecommunications systems.
Lighting and Sign Maintenance
Streetlights, highway signs, and traffic signals must be maintained through overhead means, making bucket truck aerial lifts a necessity. With the flexibility to work around traffic when needed, bucket trucks are a safer solution to roadside maintenance.
Exterior Painting
Painting large, commercial buildings would be a hassle with just a ladder. Instead, rent a bucket truck to get the job done with ease. Bucket trucks can be used by painters for most exterior painting projects to make the job both safer and more efficient.
Window Washing
For businesses located on the upper floors of a commercial building, bucket trucks can be used to perform window washing tasks. The stable bucket platform gives crews the ability to effectively work with both hands, making the job of washing windows, screens, sills, frames, and other window dressings a lot easier.
Holiday Light Decoration
Professional looking holiday decorations, including lights, may require the use of a bucket truck for larger buildings and heights. Workers can be hoisted up high to install lights and decorations to make the season extra bright and jolly!
If you're looking for bucket truck rental options in your area, contact us to find out about our customer leasing packages and see what solutions we have for your business!
Bucket Truck FAQ
A bucket truck is typically classified as a truck equipped with an extendable, hydraulic boom carrying a large bucket for raising workers to elevated, inaccessible areas.
How much does a bucket truck weigh?
Weights can vary based on the size of the Chassis, the brand, and the specific upfit you are looking for.
How high does a bucket truck reach?
City Rent A Truck bucket trucks have a working height of up to 44 feet!
What is the difference between an insulated and non-insulated bucket truck?
Insulated bucket trucks have a dielectric fiberglass coating that prevents electricity from flowing through the boom, damaging the equipment, or potentially electrocuting the operator. Non-insulated bucket trucks do not have the same coating.
How much does it cost to rent a bucket truck?
Bucket truck rental rates vary based on length of rental. Contact our commercial sales team for a custom quote at (816) 683-3300 or info@cityrentatruck.com.
How to operate a bucket truck?
Bucket Trucks require a specialized and trained operator to use. You can contact a City Rent A Truck Representative with any questions.
Are your bucket trucks insulated?
City Rent a Truck has a mix of insulated and non-insulated bucket trucks available for rent.
What are some common uses for bucket trucks?
Bucket trucks are very versatile vehicles, with applications and uses for many different types of jobs. We find the following industries or job types to routinely need bucket trucks and related equipment:
Electric Utility & Telecom
Forestry, Tree Care & Landscaping
Lighting & Sign Maintenance
Exterior Painting
Window Washing
Holiday light decoration
" These guys are first class. Have used them several times now. Their equipment is always clean and in perfect working condition. I would recommend them to anyone and have done so. "
Interested in a Quote?
Great! Click the button below to get started