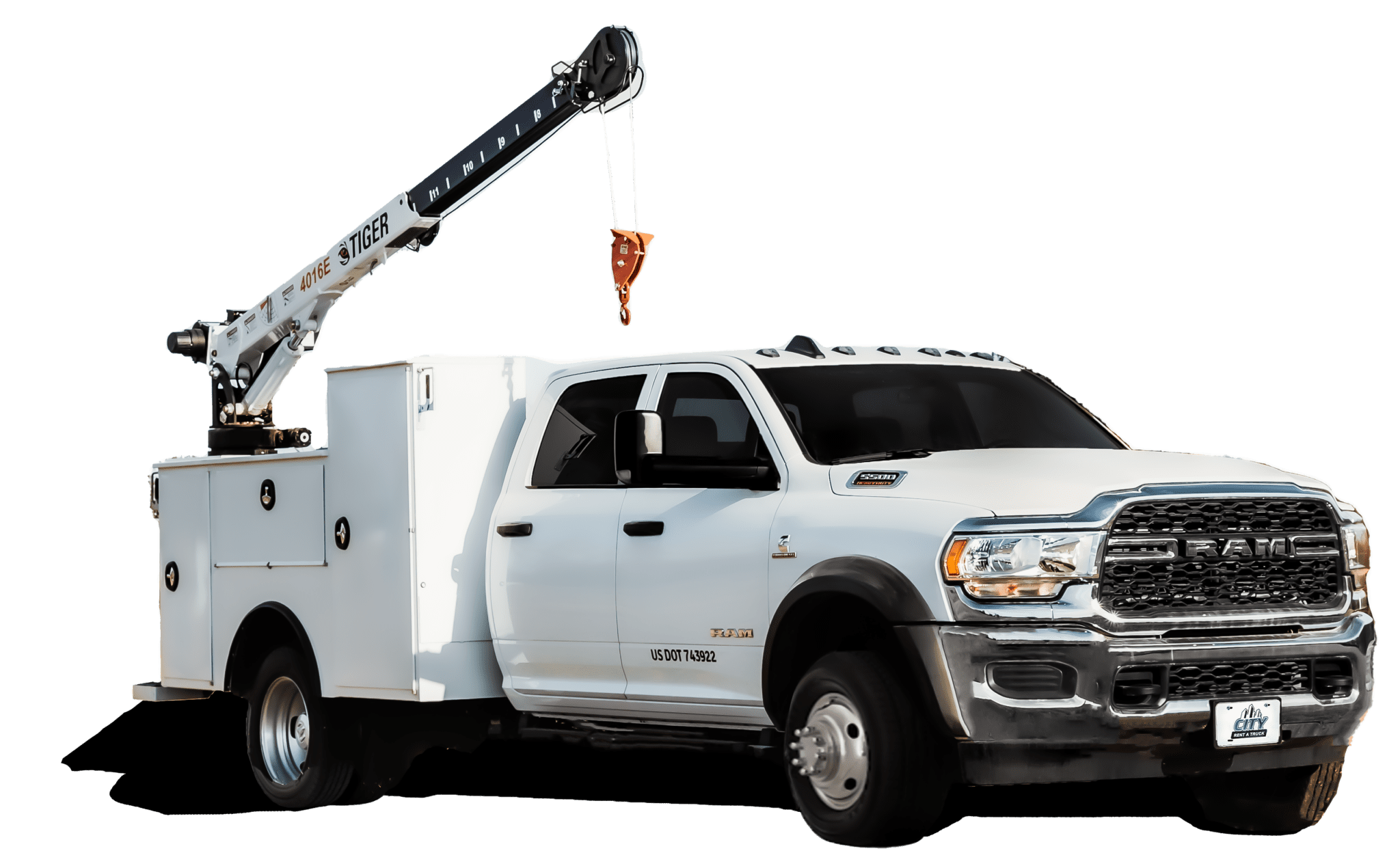 Service Trucks
Our service trucks are some of the most versatile vehicles in our fleet. With the ability to haul, tow, transport your crew, and store your tools in the storage compartments, these durable trucks are the ideal solution for a variety of tough jobs.
City Rent a Truck also offers accommodating lease and rental packages, allowing you the flexibility to work on your own timeline to get the most out of each service truck you rent from us.
Category Features *
Bed lengths up to 12 feet
Max loaded weight (GVWR) up to 18,000 pounds
Towing capabilities up to 18,500 pounds
Side Panel Storage Compartments
Optional Up-Fits Available

* Features may vary on select vehicles
Quick Category Comparison
| | | Body Style | Drive Type | Max Tow Weight | GVWR | Fuel Type | Bed Length |
| --- | --- | --- | --- | --- | --- | --- | --- |
| | | | | | | | |
| --- | --- | --- | --- | --- | --- | --- | --- |
| | 3/4 Ton Crew Cab Service Body | Crew Cab | 4x4 | 12,600 lbs | 10,000 lbs | Gas & Diesel Options | 7' |
| | | | | | | | |
| --- | --- | --- | --- | --- | --- | --- | --- |
| | 12' F550 Contractor Body Truck | Single Cab | 4X2 | 18,000 lbs | 18,500 lbs | Diesel | 12' |
| | | | | | | | |
| --- | --- | --- | --- | --- | --- | --- | --- |
| | Service Body Crane Trucks | Crew Cab | 4X4 | 18,000 lbs | 17,500 lbs | Diesel | 7' |
Our Selection of Service Trucks
Service Truck Features
City Rent a Truck offers service truck rentals to any customer looking for a range of towing and hauling options. While features may vary depending on the truck, our rental options have several capabilities to fit your needs and budget.
We offer service truck rental options with the following:
Bed lengths up to 12 feet
Max loaded weight (GVWR) up to 18,000 pounds
Towing capabilities up to 18,500 pounds
Side panel storage compartments
Wide range of up-fit options
Industries that Use and Rent Service Trucks
Many companies and industries use City Rent a Truck as their number-one choice for service truck rentals. Common industries we serve with these types of rental needs include the following:
Construction
Contractors can easily take advantage of service truck rental options from City Rent a Truck. With the ability to haul and store an abundance of tools and equipment, these trucks bring both efficiency and reliability to any job site. The bed and top ladder racks featured on certain service truck options make hauling necessary construction materials a breeze.
Landscaping
Mowers, trimmers, edgers, blowers, and more – these types of landscaping equipment require the towing capacity of a heavy-duty service truck. Landscapers can haul equipment easily from one job to another and still have plenty of room for tools and other lawn care products.
Roadside Assistance
Service trucks from City Rent a Truck are designed for towing. Those working in roadside assistance need a reliable truck to tow other vehicles, ensuring that help is on the way. Your team may also need a service truck to haul away equipment or tools needing repair from a construction or manufacturing job site.
Community and Building Repair
Does your team need to lift something heavy, like a manhole cover or a fire hydrant? Or, maybe you need a new HVAC unit lifted to the top of a corporate building. We have several crane up-fit options on our service body trucks that have you covered! These trucks allow your team to easily and safely lift and move large objects without relying on manpower. Eliminate any safety threats to your team and leave the heavy lifting to a specialized service truck that's ready to do the job.
Electrical and Plumbing Work
Those working in the electrical and plumbing industries need to protect their tools and supplies from the elements. With a service truck's storage space and hauling capabilities, your team can easily bring the equipment you need to ensure your work is up to code and meets all safety regulations.
If your team needs a reliable service truck rental, City Rent a Truck is here for you! Learn more about our rental package options by contacting us today.
Frequently Asked Questions
How much does it cost to rent a service truck?
The cost of renting a service truck can vary based on a variety of factors. Click here to get in touch with our team for a custom quote!
What do I need to rent a service truck?
A valid driver's license, full coverage insurance (and a credit card.
Do you offer service truck delivery?
Yes, we offer service truck delivery anywhere in the nation for an added cost.
" Fantastic service. When my work truck went down these guys delivered a new one straight to my job site, same day. Our operation didn't miss a beat! Will definitely use them again. "
Interested in a Quote?
Great! Click the button below to get started.